Pennsylvania Vegetable Growers Association
An Association of Commercial Vegetable, Potato and Berry Growers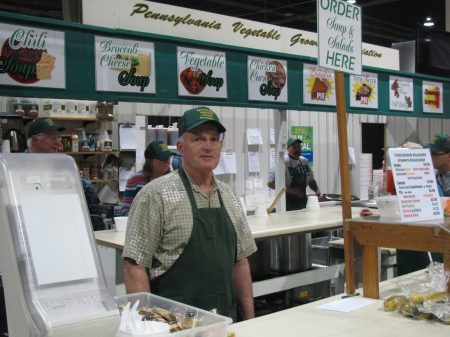 Farm Show Booth Sets New Sales Record
This year's PVGA Farm Show Food Booth at the 100th Farm Show set a new overall sales record of nearly $211,200 – thanks to the efforts of over 200 volunteers.
Sales were up almost $14,000 from last year's record sales although due to increased costs profits dropped about $2,500 to about $55,900.  Thanks to the help of over 40 volunteers each day who filled 350 shifts during the eight and half days of the Farm Show, PVGA earned a profit of about $160 for each volunteer shift.  While sales of batter-dipped vegetables/blooming onions and soup/salad/drinks were down slightly, sales of the funnel cakes and fried pickles increased considerably.
The only new menu item this year was carrot cake funnel cakes.  The menu also included batter-dipped vegetables, blooming onions, berry and pumpkin funnel cakes, fried pickles, strawberry slush drink, raspberry lemonade, vegetable soup, chicken corn soup, broccoli-cheese soup, chili, broccoli-cauliflower and bean salads, carrot/celery sticks, dill pickles, mixed berry pie, pumpkin pie, and vegetable wraps.  Sales included:
–8,600 servings of batter-dipped vegetables
–7,800 Strawberry Surprise drinks;
–7,400 blooming onions;
–5,100 bowls and 234 quarts of vegetable, chicken corn, broccoli/cheese and chili soups or about 499 gallons;
–3,400 funnel cakes;
–2,675 raspberry lemonades
–1,800 bowls of broccoli/cauliflower and bean salads;
–1,700 dill pickles;
–1,700 servings of fried pickles
–850 pieces of Very Berry and pumpkin pie; and
–780 vegetable wraps
Bill Reynolds, PVGA Secretary-Treasurer and Brian Campbell, PVGA Past President, each managed the booth for several days this year.  The Board of Directors is working toward having other persons besides the Executive Secretary able to manage the booth.  Jack Grace and his daughters Jackie and Nancy of Grove City graciously volunteered for the sixteenth year to oversee the soup-making operations and assist in overall management for the entire week while Boots Hetherington oversaw the drink portion of the booth for the week.
This year's booth again featured a large flat screen television where pictures from PVGA members' farms were shown throughout the week.  Nancy Grace put together the slide show from pictures submitted by members.
Michael's Concessions of Northampton, a family business that operates concessions at fairs and carnivals throughout the year did the actual preparation and frying of the batter-dipped vegetables, blooming onions, fried pickles and funnel cakes while PVGA volunteers served and sold them.  PVGA volunteers also helped prepare the vegetables.  The produce for the batter-dipped vegetables and blooming onions was supplied by Kegel's Produce.
The Honor Roll of this year's volunteers is listed below to recognize those who made the effort to come to Harrisburg to help out.  The Farm Show Food Booth, along with the Ag Progress Days Food Booth, make it possible for the Association to support research and promotion activities.
Farm Show Volunteer Honor Roll
Following is the list of farms and individuals who volunteered time to staff the Farm Show Food Booth this year.  We apologize for any names that might be omitted.  Asterisks (*) indicate the number of days persons helped (if more than one).
Dave Adams
Ag Choice Farm Credit
Dave & Maria Hudish
Melissa Jutba
Nichole Liddick
Emme Rickabaugh
Robert Amsterdam*** & Susan Richards
B & R Farms
Robin** & Boots******** Hetherington
Blair Hetherington
Katie Hetherington Cunfer
Morgan Hetherington
Kevin Bond
Barefoot Farm
David and Laura Hartzell
Elijah Hartzell
Luke Corbin
Baronners Farm
Robert Baronner
Gordon Perry
Baseshore Farms
Tom Baseshore
Kathy Evans
Donna Miller
Brenda Baumgardner
Timothy Beard
Bender's Potatoes
Brook Bender
Amanda Tarman
John Berry
Bitler Farms
Steven Bogash***
Brian Campbell Farms
Brian & Erica Campbell***
Brooke Campbell***
Laura Campbell
Payton Aucher
Tyler Avery
Joanne McGarvey
Francis & Jennifer Broyan
Burger Farms
Leonard Burger Jr.
Lenny Burger III
Henry & Ellen Burkholder
Julia Burkholder
Charney Farms
Ed Charney
Lauren Charney
Rebecca Charney
Marissa Charney
Duane & Judith Charles
Charles Farm Produce
Kevin & Sharon Charles
Conrad Charles
Copenhaver Farms
Ronald & Brenda Copenhaver & family
Jessie & Martha Copenhaver
Crop Production Services
James Jordan
George Umholtz
D & E Farms
Jillian Erlemeier**
Brandon Carter**
Dan Schantz Farm & Greenhouse
John Carl
Ed Cordero
Nevin & Melody Davis
Danielle Hartley
Kevin & Lise Hench
Chris Davis
Clyde & Peggy Dearolf
Kenneth Dearolf**
Larry Dixon
Karen Doyle
Ted Dymond**
Fred W. Eckel Sons Farms
Robert & Rachel Lunger
Kelly Eckert
Tim Elkner
Diana Erb
John Esslinger
Brenda Esterline**
Verna Everett
FDR Produce
Fred Ranck
Austin Ranck
Earl Ferry
Greg Forry****
Foxleigh Farm
Carville Mace
Carville Mace, Jr.
Dennis & Becky Frey
Furmano Foods
Don Bergey
Jim & Sandy Clemens
Don**** & Sue Geise
Dave & Jody Geise
Terry Greaser
Scott Hoffman
Jim & Phyllis Kohl
Ken Martin***
Mike & Jenny Masser
Steve & Andrea Reinard
Mike Stroup
Stephen & Gayle Ganser
Gleaning Project of South Central PA
Renee Dotson
Jay Eury
Graceland Farm Market
Jack Grace*********
Nancy Grace*********
Jackie Grace*********
Gray's Apple Ridge Orchard
David & Pam Gray
Phil and Nancy Lengle
Jeff Waltermyer
Groff's Vegetable Farm
Earl & Edith Groff
Mary Ann Leaman
Hardings Farm Market
Steven Harding
Emily Harding
Stephanie Harding
Harner Farm
Dan Harner
Chris Harner
Harvest Valley Farms
Arthur & Kathy King**
David King**
Caleb Costanzo**
Katya Nouletta**
Sarah Zanotti**
Greg Heigel
Harvest View Farm
Kenneth & Cathy Metrick
Amy Metrick
Help From Above Farm
Mark Stanley
Andrew Stanley
Glenn Hetherington
Wilmer & Edna Hoover
Richard Johnson
Michael Kahl
Brent & Julie Kaylor**
Kegel's Produce
Ben Beganski
Ben Burchfield
Jordan Hilt
Matt Kreider
Alan Massenburg
Kevin McCart
Eric Murr
Kemmerer Farms
Alan Kemmerer
Adam Kemmerer
Justin Andres
Ben King**
Klinger Farms
Lois Klinger
Rick Klinger
Kristen Joyce
Greg & Annette Kratzer
David Kreider**
Lloyd & Mary Lois Kreider
Theodore & Mary Kulp
Lichtenwalner Farms
Kathy Lichtenwalner
Mollie Lichtenwalner
Steve & Carol Lutz**
Ken Martz
McPherson Greenhouses
Michael McPherson
Robert McPherson
Eugene Strouse
Neil & Audrey Merkel
Miller Plant Farm
David Miller**
Brent Clever
Joan Flickinger
Chris Johnson
Steve Slyder
Lisa Griffith
Karly Lehman
Lynne Shive
Greg Watson**
Erin Ashby
Vicki Masek
Jeffrey & Kay Mizer
Barrie Moser**
Moyer's Mum Farm
Ben Moyer
Ken & Kim Moyer
New Morning Farm
Dean Martin
Stephanie Sparrell
Caitlan Zlatos
Laverne Nolt
Melanie Noss
John O'Barr
Eric Oesterling**
Fran Olliver**
Pallman Farms
Brian Pallman
Bruce Pallman
Craig Pallman
Ashten Carpenter
Kevin Kelly
Wendy O'Malley
Paulus Farm Market
James Paulus**
Weyant Paulus
Penn State Harrisburg Phi Sigma Phi
Luis Tejada, Jr.
Mauricio Valverde
Javen Williams
Penn Valley Farm
Robert & Lois Keller
Karen Keller
Jared Harnly
James Kauffman
Lauren Kauffman
Nate Kauffman
Walter & Robin Peregrim
Robert Pollock**
Chris Powell
Ernest Pyle**
Ryan Pyle*****
William Rankin***
Reiff's Farm Market
Ed Reiff
Nathan Reiff
Teresa Reiff
Leon Ressler
William & Lois Reynolds***
Richmond Produce
Samuel Burkholder
Elaine Burkholder
Craig Richard
Tyler & Jennifer Rohrer
Jay & Marion Rutt
Steve Sample*****
Hilary & Martha Schramm**
Dave Schreck**
John Smucker
Marlin Sensenig**
J & L Shafer Farms
Dallas Shafer
Josh Zehner
John Shenk
Tim Shultz
Scott & Jan Simmons
Heather Skorinko
Allen Sollenberger
Stahl's Plants & Produce
Priscilla Stahl
Josiah Stahl****
Elaine Steigman
Charles Stoecker
Elmer Stoltzfus
Trevor Stover**
Strawberry Lane
Keith Kaucher**
Noah Kaucher**
Jon Strite***
Tom & Kim Strzelecki
Styer Farm & Market
Daisy Styer
Keith Styer
Sara Styer
Chris Swartz
Bonnie Troxell
Cheryl Troxell***
Joel Weaver
Tina Weyant
Tim White
Karen Wilson
Donald Wise
Yellow Hill Farm
Craig & Natalie** Bishop
Zachery Smelser
David Zimmerman