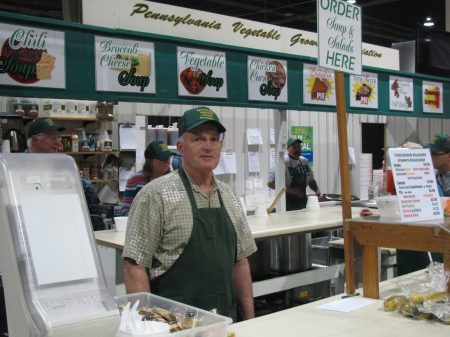 New Products Help Set New Sales Record Set at PVGA Farm Show Booth
The 2020 PVGA Farm Show Food Booth set another new sales record of $238,600, topping the previous sales record of $223,500 set last year.
There were several significant changes again made in the booth operations designed to increase efficiency and increase profit. First, three new menu items were added – infused water, berry-batter-dipped Oreos, and batter-dipped snap beans – while several menu items were dropped because of low sales volume – chili, vegetarian vegetable soup, pumpkin pie, bean salad, garden salads, vegetable wraps and tomato juice.
The infused water suggested by Brian Campbell was a big seller and significantly increased the booth revenue.  Bottled spring water was flavored with concentrates of watermelon, cucumber, blueberries, strawberries, and blackberries, garnished with fresh fruit and served over ice for a refreshing, non-sweetened alternative to soda or the Strawberry Surprises or raspberry lemonade.
The berry-battered-Oreos also sold well and increased revenues along with a $1 price increase for the blooming onions.  The batter-dipped snap beans did not generate significant sales as a separate item but did offer an additional vegetable choice for the mixed batter-dipped vegetable mixed orders.
Another change was the reconfiguration of the booth layout to give more room for the preparation of the funnel cakes, fried pickles, corn nuggets, and berry-battered Oreos.  These items all bring in significant revenue but were crowded into a small corner of the booth.
The elimination of menu items that had a small sales volume was intended to both free up some booth space and reduce the volunteer labor needs.  Another effort to reduce labor needs was the move to using fully prepared vegetable and chicken corn soups that just needed to be heated before serving.  Previously the chicken corn soup was made from scratch while the vegetable soup was significantly altered.
For the second year, all the cashiers were equipped with electronic tablets to enable counts of individual items to be tracked better and also allow the acceptance of credit cards for payment.
Batter-dipped vegetables were again the biggest seller, with about 9,230 servings sold. Strawberry Surprises were second with over 6,560 being sold. Blooming onions were third with over 5,010 prepared followed by funnel cakes with 3,865 being served.  Raspberry lemonade and the infused water were close behind at 3,575 and 3,550 servings respectively.  Over 2,635 trays of fried pickles were sold followed by 2,100 bowls of chicken corn soup, 1,414 trays of corn nuggets, and 1,207 servings of berry-battered-Oreos.  About 1,110 servings of broccoli-cauliflower salad, 764 servings of vegetable soup, and 685 dill pickles, the three menu items served during the first years of the booth, were sold.  About 870 bowls of broccoli cheddar soup and 196 pieces of berry pie rounded out the sales.
PVGA again helped operate a satellite booth in the Main Hall (the original Farm Show Building) which was a joint effort between PVGA, the Dairymen's Association, Penn Ag Industries and FFA.  PVGA offered a limited menu of funnel cakes, batter-dipped vegetables, and chicken corn soup.
The Association continues to contract with Michael's Concessions, owned by Karen and Brenda Michaels and Andrew Roberts, to prepare the various fried menu items. PVGA volunteers serve these items as well as prepare and serve the soup, salad and beverage items. The profitability of the booth depends solely on the donated time and effort from over 200 PVGA members and friends. Jackie and Nancy Grace  and Boots Hetherington again volunteered for the entire week. PVGA officers and directors Brian Campbell, Bill Reynolds, John Strite, Rob Shenot and Dave Miller each helped manage the booth for several days.  The produce for the batter-dipped vegetables and blooming onions was supplied by Kegel's Produce, which also provides the use of a refrigerated/heated truck to store the produce and other food items.
Again, our sincere thanks to all PVGA members who came to Harrisburg to help make the food booth successful in raising money for vegetable and berry research at Penn State.
This year's booth again featured a large flat screen television where pictures from PVGA members' farms were shown.  Nancy Grace put together the slide show from pictures submitted by members.
If you didn't help this year, please volunteer to help next year.  The more new volunteers we have, the less time we need to ask of our veteran volunteers. The Farm Show Food Booth make it possible for the Association to support research and promotion activities.
Farm Show Volunteer Honor Roll
Following is the list of farms and individuals who volunteered time to staff the Farm Show Food Booth this year.  We apologize for any names that might be omitted.  Asterisks (*) indicate the number of days persons helped (if more than one).