The winners of this year's PVGA Young Grower Awards are Nick Lubecki of Pittsburgh in Allegheny County and Wesley Nell of Abbottstown in Adams County.  This award is designed to recognize outstanding young growers in the vegetable, potato or berry industries.  The winners were recognized at the PVGA Annual Meeting in Hershey.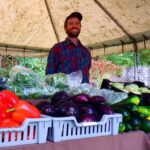 Nick Lubecki is the farm manager of Braddock Farms, a not-for-profit farm operated by Grow Pittsburgh. The farm was started with the goal of providing fresh local vegetables to the community of Braddock. They are the only source of fresh vegetables in the community. The farm also aims to provide education opportunities for area youth and adults to build their growing skills and spark an interest in agriculture. The farm operates on a bit less than an acre and sells most of the produce through their roadside stand. They also sell produce in other communities which would otherwise lack a grocery store. The farm sells the rest of their produce through a farmers coop: Penns Corner Farm Alliance. They have a few on farm festivals every year including a Zucchini Festival and Harvest Festival which really brings the community together and connects the farm with the public.
Braddock Farm grows mixed vegetables for the roadside stand. They focus on tomatoes, lettuce, cooking greens, onions as well as all the standards. Nick is always exploring more fruit options and has gotten into strawberries and ever-bearing strawberries, blackberries, raspberries and this year planted some exciting table grape varieties from the University of Arkansas. They sell mostly salad, roots and tomatoes through the coop.
Nick is a first-generation farmer. He got his start in agriculture in 2009 working on a rural vegetable farm in Chambersburg. He started his first vegetable farm in 2012 in the city of Pittsburgh and ran a profitable business until 2016 when he joined Grow Pittsburgh as a farm manager. He currently serves on the leadership committee of the Western PA Young Farmers Coalition, where they are working to organize young and new farmers with the goal of making farming more viable in the area. He is also a member of PASA and Farm Bureau besides PVGA.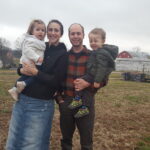 Wesley Nell is 27 years old and is a first-generation vegetable farmer.  After two years of marriage he and his wife decided to pursue the dream of growing food for their community. He was inspired by was father who has grown produce his whole life. The couple rented a couple acres on his grandfather's farm and through blood, sweat and tears they harvested their first five acres of cauliflower.
After that year, Wes was hooked! He invested more into equipment, packing line, and marketing materials. He experimented with some other crops but they didn't always work out. Then they saw the need for locally grown sweet onions in our local supermarkets and the demand and desire for people to buy local. They worked hard and invested in their labels and marketing. He has been successful in working with wholesalers and getting their Pennsylvania product to stand out and fly off the shelves.
Wesley grows five acres of cauliflower and almost two acres of sweet onions.  Everything is sold wholesale.  He works hard to make a living for his family off the land that he loves. He and his wife love that they get to work beside their two young children and teach them the values of farming.
PVGA Young Grower Award recipients must be PVGA members who are 35 years old or younger, who have been successfully growing vegetables, potatoes or berries for less than five years and who have contributed to advancing or promoting the Pennsylvania vegetable, potato or berry industries.  The prize is free registration for the Mid-Atlantic Fruit and Vegetable Convention plus lodging at the Hershey Lodge.  To nominate a young grower you think should be recognized (or yourself) send a brief but comprehensive description of the farm operation and the nominee's qualifications to PVGA at pvga@pvga.org or 815 Middle Road, Richfield, PA  17086, by November 30, 2020.